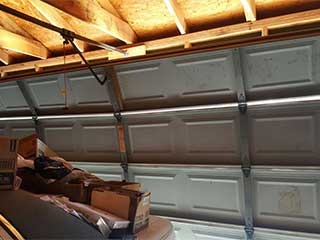 Don't Wait For Trouble To Come
It's best to catch any early warning signs of future issues with your garage door now and get them taken care of rather than wait for the problem to arise! Regularly performed maintenance on your door can make a huge difference in needing repairs down the line, as well as in how reliably it's able to work. Keeping your door in good shape makes certain it will keep working smoothly for you for a long time and can save you from the hassle of an unexpected spring break or opener malfunction.
Ensure Your Door's Safe
The safety sensors for your garage door are extraordinarily important for keeping you and your family safe, especially if there are kids or pets that may be near them. Our professionals can test the safety sensors thoroughly to make utterly certain that they're performing as they should be to protect anyone that could accidentally walk under the path of the door as its closing. You'll be more relaxed knowing everything is 100% safe!
A Complete System Examination
This involves our technicians inspecting every part of your garage door's system to see if there's any potential troubles in the making that should be dealt with. This is the best way to catch any future issues early on and take care of them before it's too late.
Lower The Risk Of Parts Breaking
Sometimes all that's needed to help elongate the life of your door's parts is to lubricate them and take out the brittleness that can occur with time. This will also help it slide smoothly and easily again! It's a win-win situation.
Schedule Your Appointment Now
Call Garage Door Repair Pleasanton today so we can tend to all of your garage door's maintenance needs!
We also offer the following:
Garage Door Opener Track Maintenance
Opener Remote Clicker Replacement
Broken Spring Replacement & Repair
Garage Door Cable & Track Repairs