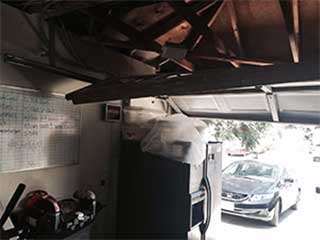 Springs Are Vital To Your Door
The springs of your garage door effectively power the whole system, as they create the energy for it to be able to open and close. Thanks to this important function, it also means that it's noticeable if they begin to have issues. If you see that they're corroded with rust, if there are strange sounds as your door tries to open, or any other out of the ordinary symptoms occur, it may be because of spring problems. It's dangerous to attempt DIY on them, especially extension springs that can snap and cause harm, so it's best to let trained technicians take care of things! We'll come out and see what exactly the problem is, and whether the tension or extension springs can simply be repaired or require replacement. In either case, we'll tend to it before you know it!
Your Tracks Can Malfunction Too
The tracks that your door slides up and down on can become misaligned over time from bumps and wear, which makes it a struggle for the door to move. This strain can take its toll on other parts over time as well, so letting us handle it as soon as possible is for the best! We'll take a look over the whole track to find the source of the issue and get everything back into place. Should it require a replacement, we'll handle the process of taking apart the system and ensuring the new track is properly in place to put it all back together!
It May Be The Rollers Instead
The rollers in the tracks themselves may actually be the source of the problem, as they can also rust or wear over time so that they no longer work as they should. One of our team members would be happy to open up the track and take the rollers out to take a look! We'll repair them if possible, and if any need replacing, we'll do that as well.
Call Us Now
Contact Garage Door Repair Pleasanton so we can assist you today!
Some Expert Advice
My garage door won't open manually. How come?
If you haven't pulled the manual release cord, your door will resist any attempt at lifting it by hand. The manual release should be on the connecting belt or chain between the opener and the door mechanism, usually closer to the latter, and connected to a cord with a red plastic bit on the end. If the door still can't be opened after you've pulled the switch open and it's locked in place, then you have a mechanical failure on your hands and should call in a professional.
How much does a garage door weigh?
Garage door weight varies quite a lot. It all depends on the door's size and what materials it's made of. Aluminum and synthetic doors tend to be the lightest, with steel being heavier and wood running the gamut depending on type. The lightest 8x7 foot garage doors can weigh well under one hundred pounds. A hardwood 16x8 foot unit can weigh more than five hundred.
Garage door roller popped out. What do I do?
Getting a roller back into its track isn't too complicated, provided you know what you're doing, your door's manual release is working, and you have help. However, unless you repair the breakage or warped spot on its track, the roller is likely to fall right out again in short order. Your best bet is to call for professional help and get all the problems taken care of reliably and with minimal risk.
Need more? We also provide:
Roll up Garage Door Maintenance
Genie Garage Door Opener Services
Galvanized Torsion Spring Installation
Emergency Garage Door Services