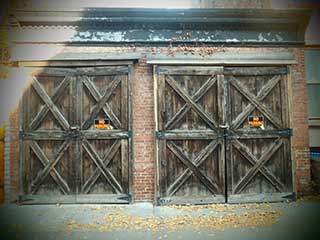 What Can Harm The Finish?
Weather is a huge part of what may damage the finish on your garage door. If the area you're in has high winds, they can cause degradation of the finish thanks to carrying things like sand and dirt that will scrub over the surface and start eating away at it.
What Should I Look Out for?
This is particularly a problem for those who live on the coast, as there's not just sand, but salt, in the air which will chew into the door's coat. Sun can cause the color to fade of course, especially if it's in direct light for a long period of time. However, this also affects the finish and will cause it to weaken eventually. If it's a particularly hot area and there's humidity as well, then the door may absorb moisture and swell up to create strain and there might be cracks that form. The color is also a factor in this, as the darker it is, the more it will absorb the rays and heat, creating further problems. Paying attention to where your door is located and how much sun it will be dealing with in accordance to what color it should be is vital to keeping it in the best condition.
What Can I do?
Inspecting your garage door should be something you do periodically anyway to check the system for any noticeable differences and potential issues to catch them as soon as possible, such as rusting. Adding on a visual check of the front of the door is a quick and easy way to keep an eye on things and catch early problems in the making. If you notice any marks like scratches or blistering or can feel that it's off if you run your hand over it, the finish has probably been harmed. You can touch up small issues fairly easily yourself with paint and wax, but if it seems to be a bigger issue such as a substantial crack you should have a professional take care of things to be safe.